Blockchain data shows that the number of daily active wallets on Solana (SOL) is recovering and is now three times higher than what was reported before the collapse of FTX — a major crypto exchange with which solana shared a founder.
Blockchain data shared on Jan.6 by Tom Dunleavy — senior research analyst at crypto data firm Messari — shows that the number of daily active wallets on the Solana blockchain are now three times higher than before the collapse of FTX.
The data shows a drastic increase from under 40,000 daily active wallets before the disaster to well over 120,000 daily active wallets in more recent data.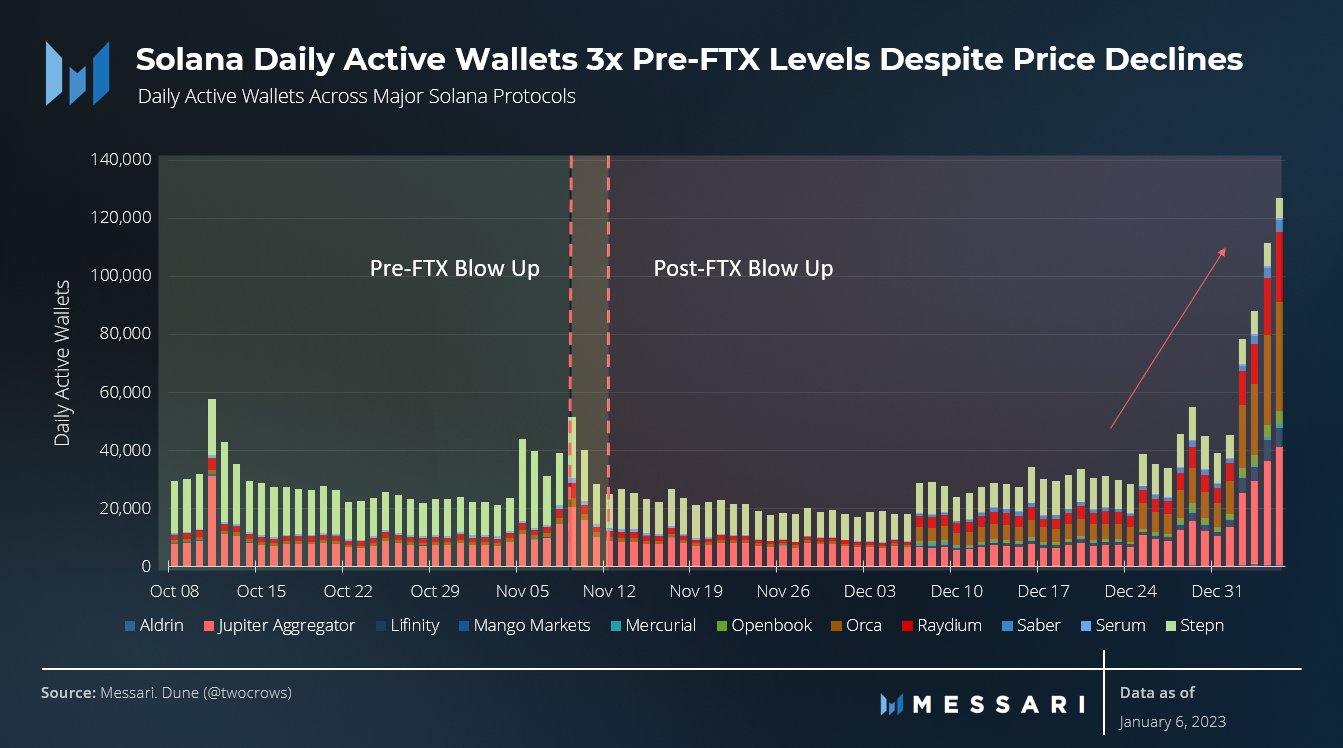 An interactive chart at Dune shows that Solana's daily active users peaked on Jan.5 at 238,470.
While "daily active user" is a vague term considering that one user may — and often does — actually use multiple private keys, the name of the variable "account_keys" used in the code that generated the data shown in the chart suggests that it is showing the number of daily active addresses like the chart shared by Dunleavy.
The pickup in activity is recent, as shown by Dune's monthly active users chart — or again, monthly active addresses — having fallen sharply from 1,704,430 in October down to 1,061,182 in December, down nearly 48%. Most of the pick up in activity happened in January.
More in-depth analysis reveals that Solana's decentralized finance (DeFi) ecosystem is having a major resurgence right now. Dune's chart showing Solana's DeFi daily active users — meaning addresses — shows a peak of 63,677 reported on Jan.5, up 295% from 16,114 back on Dec.10, as far as the chart goes.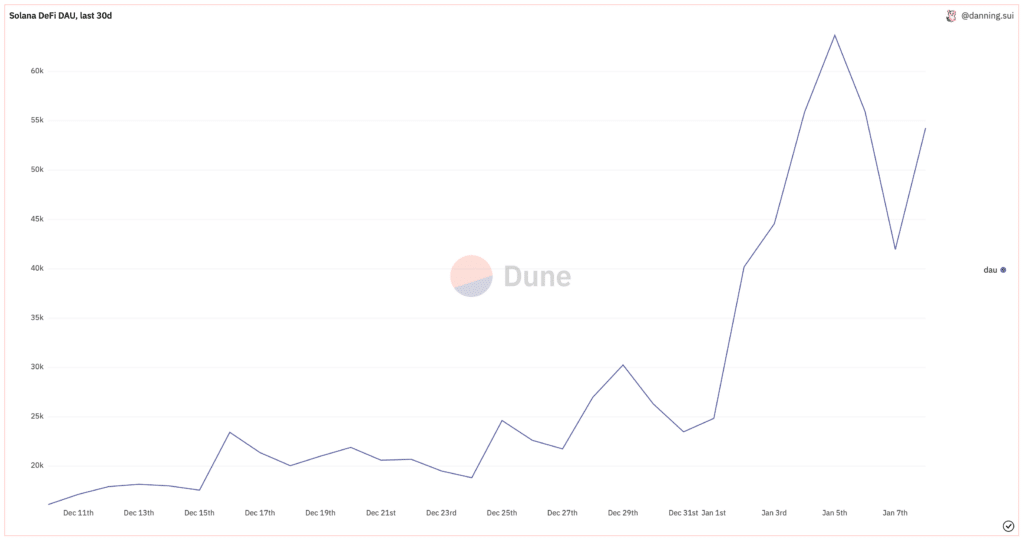 Furthermore, also the number of addresses active on Solana's non-fungible token (NFT) marketplaces is also clearly in an uptrend, according to another Dune chart.
All of this data cements the idea that Solana's ecosystem is gaining traction once again, despite its attribution to FTX and Alameda Research which caused many to wonder if the protocol had any future.
The findings follow a recent report that solana gained almost 12% in value over the last 24 hours, with some suggesting that the reason may be partly due to a growing interest in SOL's meme coin BONK or the release of Solana's Saga phone.
Solana's Saga recently opened for pre-orders at a price of $1,000, those who pay for the device in advance will also receive a free NFT.