Cardano, currently the ninth most valuable cryptocurrency in the world, has shown some price activity once again, gaining more than 12% in the previous seven days despite the general market drop.
ADA has grown 0.83% to $0.268 in the recent 24 hours. On the weekly chart, ADA has demonstrated 12% growth.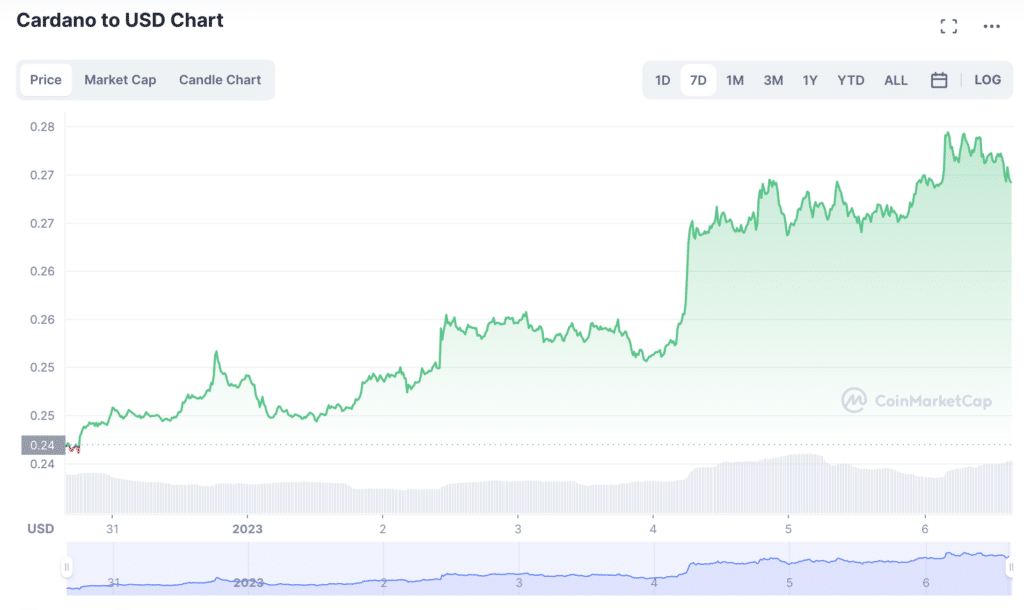 On-chain data provider Santiment reports that cardano whale addresses with holdings of between 1 million and 100 million are now operational once again.
At the moment, ADA is experiencing a brief period of growth, and addresses that hold between one million and one hundred million dollars worth of ADA may be a primary validator for a price breakthrough. Following the dump of 568.4 million coins over the last two months of 2022, they have reintroduced 217.2 million $ADA to begin 2023.
The Cardano development team is working on several improvements for the blockchain network despite the crypto winter that occurred in 2022.
A bullish run for ADA in 2023
According to reports, the Cardano blockchain platform will support two stablecoins by Q1 2023. The first token will be a USD-backed stablecoin called USDA that will conduct transactions on the Cardano network.
In addition, Cardano is working on its stablecoin called Djed in collaboration with Coti. This stablecoin will continue to keep its value pegged to the USD, thanks to the architecture of Cardano's smart contracts.
Following the successful deployment of the Vasil hard fork, the Cardano team is now taking the next step towards enhancing the platform's scalability. Cardano's Layer-2 scaling solution Hydra, which will boost transaction performance with low latency and large throughput without sacrificing the cheap gas charge, is the most anticipated innovation of this year. Hydra will be an essential advancement for Cardano network as it experiences an increase in DeFi protocols on the platform.