FTX has been the talk of the crypto industry for the past months, and now with the trial date set, there are more eyes on FTX' founder Sam Bankman-Fried and people tied to the exchange.
After the crypto exchange collapse, investors were quick to pull out of support, trying to avoid any further association with FTX. Celebrities who once endorsed the trading platform have been left in trouble with lawsuits that have been filed against them, while most of them are cutting the once-chummy ties with the exchange and erasing evidence of their deals.
Famous endorsements
FTX used to be one of the most popular and well-known exchange platforms. It's no surprise that SBF used an extensive network of celebrity endorsements to attract new users to his website, which eventually resulted in him building a $32 billion fortune. Due to the surge in interest in cryptocurrencies, FTX was able to capitalize on the platform's popularity.
After the "fiasco" involving Bankman-Fried and his company, a class action attorney Adam Moskowitz filed a suit against celebrities, who in one way or another supported the cryptocurrency exchange. According to the lawsuit, the platform was a "house of cards" designed to trick its users. In addition, the exchange made false claims about the safety of its cryptocurrency assets.
The lawsuit named sports stars such as Shaquille O'Neal, Tom Brady, David Ortiz, Stephen Curry, and Gisele Bundchen among the endorsers of FTX. The investors claim that these promoters used deceptive practices to sell their FTX yield-bearing accounts.
Larry David
Similar to how Super Bowl XXXIV in 2000 is remembered for its Pets.com commercial, Super Bowl LVI has made a lot of noise about its crypto ads. Notably, there are fewer ads for cryptocurrencies on football programming due to the plummeted value of Bitcoin (BTC) and other digital currencies.
The FTX ad featuring an actor and comedian Larry David during the Super Bowl LVI was one of the most talked about commercials during the event. In it, David is seen going through history and defacing various well-known inventions, such as the light bulb and the wheel. He then gets presented with the FTX app, advertised as a "safe and easy way" to start investing. David took a quick look and said, "Yeah, I don't think so. And I'm never wrong about this stuff."
It is ironic that ten months after the ad aired, FTX collapsed.
'Just a paid spokesperson' Shaq
A whole list of celebrities and investors are now trying to distance themselves and cut any ties with FTX.
Shaquille O'Neal, a former professional basketball player, investor and entrepreneur, has recently stated that he didn't have anything to do with the crypto exchange but advertise it for money.
In June, the company promoted an endorsement deal with Shaquille O'Neal, calling him Shaqtoshi.
In the commercial, O'Neal talked about being an everyday FTX user, wearing a Sam Bankman-Fried wig.
The video came as a surprise since a year before, Shaq said he wasn't into cryptocurrencies. "I don't understand it," he said at the time. "So I will probably stay away from it until I fully understand what it is."
He also said that he felt skeptical about stories of people making money quickly because of his life experience.
And now an NBA star denies any involvement with the exchange insisting he was "just a paid spokesperson for a commercial."
"People know I'm very, very honest. I have nothing to hide. If I were heavily involved, I would be at the forefront saying, 'Hey.' But I was just a paid spokesperson,"

O'Neal said.
Caroline Pham
Caroline Pham, appointed as a commissioner of the Commodity Futures Trading Commission in April 2022, deleted a post she made on her Twitter account that featured a photo of herself and Bankman-Fried. According to her office, the post became too distracting as it related to the commission's application.
During an interview with Bloomberg in November, Pham called for stricter global regulations following the bankruptcy of FTX.
Bill Ackman
Bill Ackman, a billionaire hedge fund manager, also deleted Bankman-Fried's apology. He removed a supportive response after getting backlash for appearing too forgiving following the collapse.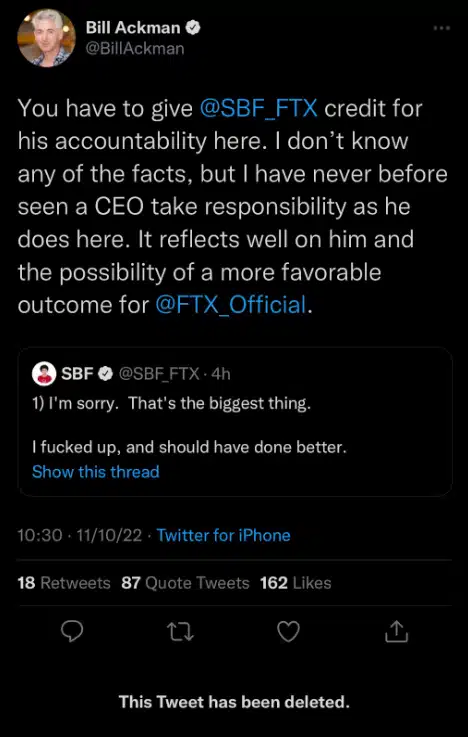 FTX arena
Even though FTX has already collapsed, its logo still appears on the walls of The Miami Heat home arena. That is a reminder of the massive deal the exchange signed with the team for almost two decades in March 2021.
The agreement involved $2 million pay a year, with the county planning to use most of the money to fund poverty and gun violence programs.
On November 22, the county asked a judge to approve its plan to terminate the deal with FTX, and it's currently looking for another partnership.
Taylor Swift dodged a bullet
Pop star Taylor Swift was one of the individuals who could have been involved in the failed FTX crypto exchange over a $100 million deal.
According to Financial Times, FTX was in the final stages of negotiations with Swift before its bankruptcy and liquidity crisis. The exchange reportedly considered paying the pop star around $100 million to be one of its ambassadors, but the deal fell through because of what FT called "unorthodox internal decision-making."
FTX Endorsers Facing Lawsuits
Celebrities associated with the crypto exchange are now facing at least three lawsuits. Investors suing FTX are also pursuing legal actions against brand ambassadors who are potentially liable for damages.
Lawsuits against celebrities are popular in cases like this and will "generate a ton of money, because they will all settle," former chief of the U.S. Securities and Exchange Commission's Office of Internet Enforcement John Reed Stark told Bloomberg.