Bitcoin mining firm Core Scientific has released its production and operational update for the last two months of 2022.
Core Scientific mined 4,417 bitcoins
In a press statement published on Jan.9, Texas-based crypto miner Core Scientific announced that by the end of last year, it operated about 243,000 colocation ASIC servers and 234,000 of its own self-mining rigs.
The machines, housed at the company's data centers in Texas, North Carolina, Kentucky, Georgia, and North Dakota, represented 48.1 EH/s over November and December 2022.
According to the statement, the company's self-mining operations produced 2,791 bitcoin (BTC) in the last two months of 2022. On the other hand, customer-owned rigs produced 1,726 BTC in the same period for 4,417 coins.
Core Scientific also reported that it had shut down operations on several occasions in the past two months to enhance electrical grid stability in some of the states where its data centers are domiciled.
Dispute with Celsius Mining
The update comes on the heels of reports that Core Scientific plans to cut short its contract with bankrupt crypto lender Celsius Network's bitcoin-mining arm, Celsius Mining.
The two companies are in a legal battle over a hosting arrangement signed in 2020. Core Scientific believes the agreement is causing it to lose about $2 million every month, which it could have made by attracting new clients or running its own rigs in the space currently occupied by Celsius's machines.
According to Core, Celsius is not covering its fair share of the cost of running its ASIC servers. The company hosts more than 37,000 ASIC rigs belonging to Celsius Mining and claims operating them costs more than $28,000 a day in electricity alone.
However, Celsius has disputed this claim, instead countering that Core broke the terms of the service agreement when it increased electricity tariffs without first contacting it.
The crypto lender also stated the mining rigs in question fall under the jurisdiction of the bankruptcy court for the Southern District of New York, which is currently handling Celsius' case.
The request to reject them violates the automatic stay imposed by the bankruptcy court on Celsius's estate.
BTC mining revenue drops amid falling crypto prices
Core Scientific itself is in the middle of a bankruptcy process. Dwindling revenue from the company's mining operations, caused by falling BTC prices and coupled with sky-high energy costs, severely impacted the company's operating performance and liquidity.
Data from cryptorank.io indicates that BTC prices have declined steadily since the beginning of 2022.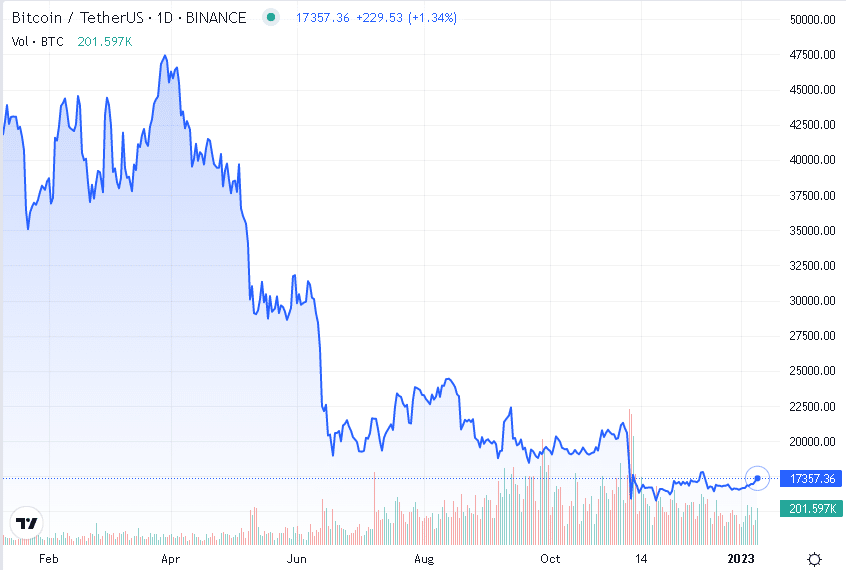 Combined with rising inflation, the poor BTC prices caused several proof-of-stake (PoS) miners to cut their output to stay afloat.
For instance, Core Scientific's finances declined from $4.3 billion in July 2021 to $78 million on Dec.20, 2022, according to people familiar with the company's financial status. 
Another crypto mining firm, Argo Blockchain, also ended last year trying to raise extra liquidity through subscriptions for common shares. The company warned that failure might lead to the closure of the business.
Additionally, Iris Energy, an Australian mining company, announced in a Nov.21 statement to the SEC that it had unplugged some of its mining hardware because the units produced insufficient cash flow.